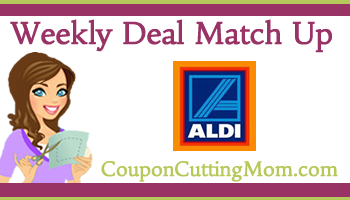 Here is the Aldi Matchup 11/20 – 11/26/13. Check your local Aldi ad, as prices do vary by area.
Shopping at Aldi is a little different than shopping at other stores. Here is helpful information for new Aldi shoppers:
The Carts: We keep our carts in one convenient place. You put a quarter in the cart, shop and then return the cart to get your quarter back. This helps to keep prices low because we don't spend time retrieving carts.
Checkout: Credit card processing fees are expensive. By only accepting cash, debit and EBT cards, it helps keep our prices low.
Bags: We don't add the costs of bags to our prices. You can bring your own bags ­­- and your wallets – greener.
Pack Up: After paying, you can move your cart to the bagging area. There you can pack your bags exactly how you'd like.
Aldi also has a double guarantee!  If you aren't 100% satisfied with a product, they will replace it AND give you a refund!
Aldi Matchup 11/20 – 11/26/13
Sweet Potatoes 3 lb. bag $1.29
Pineapple $0.99
Green Beans 1 lb. bag $1.99
Mixed Pears $0.99/lb.
Tangerines 3 lb. bag $1.99
Potatoes 10 lb. bag $1.99
Cranberries 12 oz. $0.99
Celery $0.79
Brussel Sprouts 1 lb. $2.29
Yellow Onions 3 lb. $0.99
Goldhen Grade A Large Eggs 1 Dozen $0.89
Spiral Sliced Double Glazed Brown Sugar Ham $1.99/lb.
Butterball Turkey $1.19/lb.