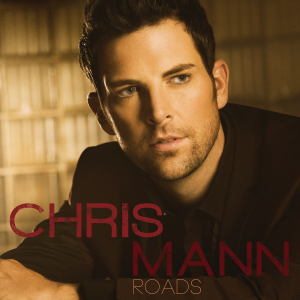 Chris Mann's debut album Roads was released earlier this week. This time last year, Chris Mann faced his make-or-break moment. "I remember it was Halloween night and my blind audition for The Voice was just a few days away," Mann recalls. "I was a nervous wreck. I went to The Voice with the hope of just making the show."
What a difference a year makes. Now Mann is  releasing his major label debut, Roads, a wildly eclectic assortment of songs, ranging from Willie Nelson's "Always on My Mind" and Lady Antebellum's "Need You Now" to "Ave Maria" and Damien Rice's "The Blowers' Daughter," with the latter featuring a special guest appearance from Aguilera.
Strange as it may be,  I spend very little time listening to music and when I do it usually isn't classical or pop but when I received a copy of Roads to review some of that changed, as I really enjoyed this album. This isn't the kind of music you just turn on and listen to while doing other things but rather it is a beautiful album that demands you sit and listen and really take in Chris' rich voice. Here are the included songs:
Chris Mann Roads Album 
Roads
Need You Now
Coure
The Blower's Daughter
My Way
Unless You Mean It
Always on My Mind
On a Night Like This
Ave Maria
Falling
Viva La Vida 
Chris has a strong, distinctive voice like few others. I was captured the minute the first song started playing. If I needed to choose my favorite track, it would be a hard selection as they were all excellent. I would say Ave Maria and Roads would be up at the very top of the list. The songs included are a great mix of songs ranging from country to classical and and will appeal to both young and old.
You can order your own copy of Roads on iTunes or Amazon.
This is a review post from One2One Network. I was provided with a copy of the album and I am eligible for a prize drawing. All opinions stated are my own