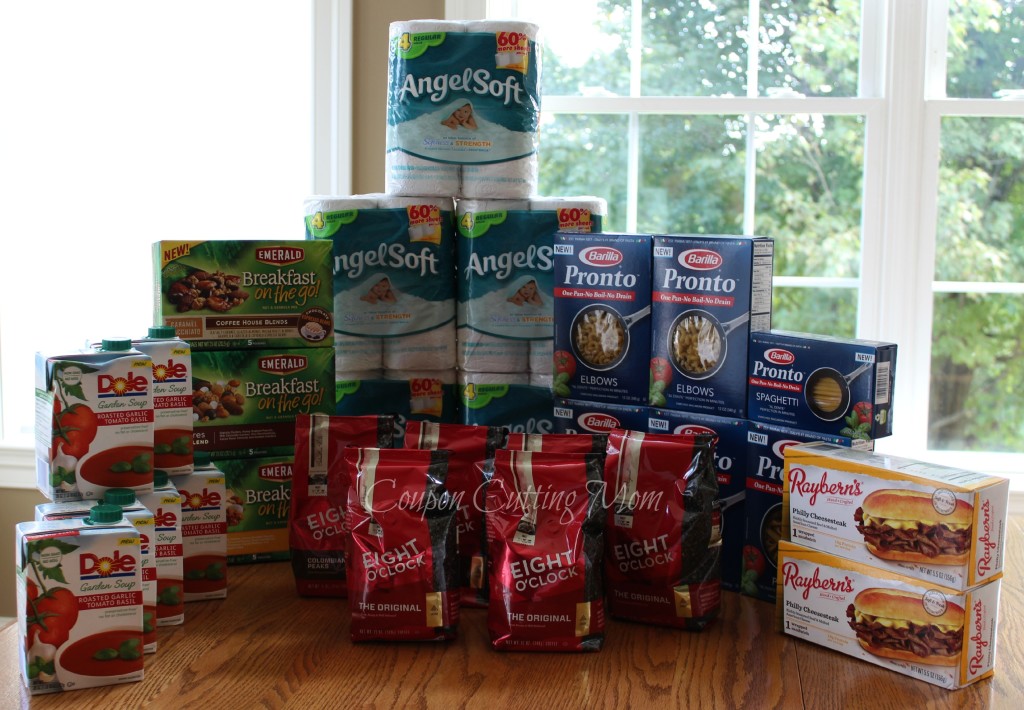 The Giant deals this week are pretty impressive. This is the haul from my shopping trip. These items have a shelf price of $82.28 but after all sales and coupons and other offers I paid only $20.36. I also earned 400 Gas Reward Points which is $10 off my next fill up of fuel. After gas points, this was like paying $10.36 for $82 worth of groceries!
Here is a breakdown of my Giant purchases: (prices good through 10/3)
Bought 3 Emerald Breakfast On The Go, 7.5 oz, $1.39 each
Used 3 $0.55/1 Emerald printable coupon
Paid $0.39 each!
Bought 6 Eight O'Clock Coffee, 11oz: $5.39 each Buy One Get 1 FREE
Use 6 $1/1 Eight O'Clock Coffee printable
Paid$1.79 each!
Bought 5 Angel Soft Bath Tissue, 4 pack: $0.99 each
Used 5 $0.45/1 Angel Soft Bathroom Tissue printable
Pay $0.09!
Bought 6 Barilla Pronto Pasta, 12oz: $1.00 each
Used $0/70/1 Barilla Pronto printable
Paid $0.00!
Bought 6 Dole Garden Soup, 26oz: $2.00 each
Bought 2 Raybern's Frozen Sandwich, 5-5.5oz: $2.00 each
Used 2 $0.75/1 Raybern's printable coupon
Pay $14.00
Receive $10.00 in gas rewards
Submit $1/1 Dole Garden Soup (Snap Deposit) (get $6 back)
Final price FREE + $2.00 moneymaker!
What items are your Giant shopping list? Be sure to check the complete list of Giant deals here.