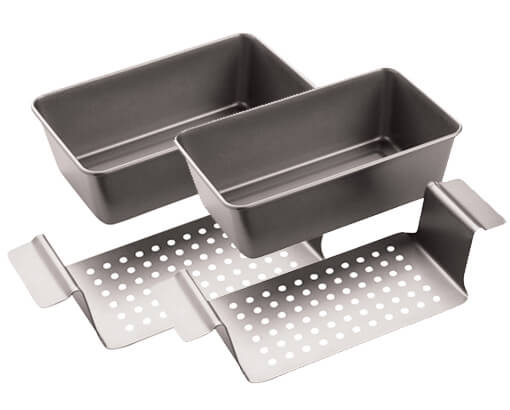 Do you love homemade meatloaf? It is something that I like but don't make real often. I always have a problem getting it out of the pan without it crumbling. Then I saw this deal, a 2-Pack Perfect Meatloaf Pan Set – with Aerated Lift Tray & Recipe Guide. I think this would take care of my crumbling meatloaf problem.
The meatloaf pan set is on sale for only $9.99 + $4.99 shipping. The list price is $39.99, making this a savings of 76%.
Features Include: 
Bake, Lift & Serve, Meatloaf has never been this easy.
Contains loaf pan and removable aerated tray
Elevates & cooks meatloaf evenly, every time
Never soggy, drains fat keep meatloaf from falling apart
Keeps meatloaf from falling apart
Includes bonus recipe guide
If you only have need of one pan, I'm thinking the second meatloaf pan would make a great gift. Include a packet of meatloaf mix and tie it up with a pretty ribbon and you have a nice gift for someones kitchen.