15-Pound Weighted Blanket Queen Size – 50% Off Regular Price
Head over to Amazon where you can score this Weighted Blanket for Adults 15 lbs (Queen Size) for just $34.95 (reg. price $69.90) when you use coupon code 50BVL3SV at checkout.
For the project of a weighted blanket, we have been developing and producing since March 2017, but we have always regarded ourselves as a newcomer, and we have never stopped learning about this product. For choosing materials, craftsmanship, and functionality, we all want to do our best, our product development team reads the feedback of consumers on Amazon every day, and our manufacturing team improves the workmanship based on this feedback every day. We will not admit that we are the best, but we have never stopped making progress. The weighted blanket is an excellent product for aiding sleep, and our mission is to make it better, to make all Americans sleep better, and we won't sell too high, we wish everyone to afford the most comfortable weighted blanket.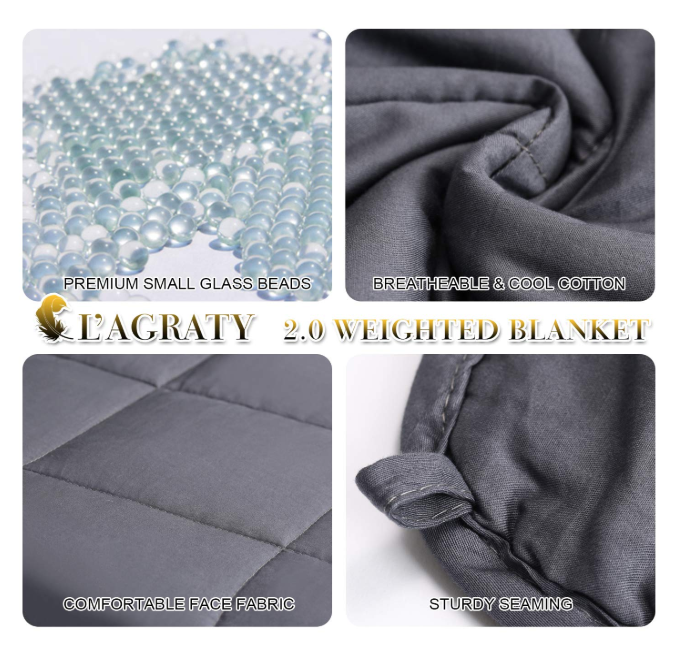 Weighted Blanket Product Features:
SLEEP BETTER: L'AGRATY Weighted blanket is engineered to be a weight around 10% of your body weight for offering the gentle feeling of being hugged in order to encourage deep and restful sleep. It can offer great all-natural relaxation and relief for adults and kids when sleeping or reading. Recommend 48"x72" for twin bed, 60"x80" for queen bed.
PREMIUM MATERIAL: The L'AGRATY weighted blanket is made of 100% breathable natural cotton, which would make it cooler and more durable than a normal blanket. The filling is environmental friendly non-glue polyester padding and Hypo-allergenic, non-toxic, odorless glass beads.
NEW IMPROVED TECHNOLOGY: We are working on offering better quality products. The new 7-layer system is designed to offer supreme comfort. This unique structure provides optimal temperature control, keep the blanket always fresh and cool.
EVENLY DISTRIBUTED WEIGHT: New process makes proper pockets than others, there are 10000+ small glass beads evenly distribute in each pocket. Every pocket is designed to size 5.5" square, provide even weight distribution, not too small to lose thread nor too big to be uneven. we also add two-layer microfiber inside to prevent glass beads move massive around, which is also breathable and would not make it stuffy.
PROFESSIONAL SERVICE: L'AGRATY is working on providing the best sleeping solution. We stand for the quality of every our product – professional service for every customer. You get 12 months warranty – free replacement or refund with no reason required. Risk-free buy, penny save choice!

Get your Weighted Blanket for Adults (15 lbs Queen Size) today while it is at this low price. Please double check the price before purchasing as prices can change quickly on Amazon.