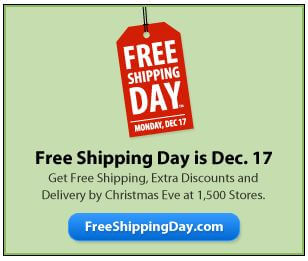 Christmas is less than 2 weeks away. This year I have done most all of my Christmas shopping online. And let me tell you it is the way to go. No crowds to fight and no standing in line. All I needed to do was wait for the UPS to deliver the items I ordered.
If you have any Christmas shopping left, you will be excited to know that Monday, December 17 is FREE shipping day. 1,500 online retailers will be offering FREE shipping with delivery by Christmas Eve!
Head over here to see a list of the participating retailers.