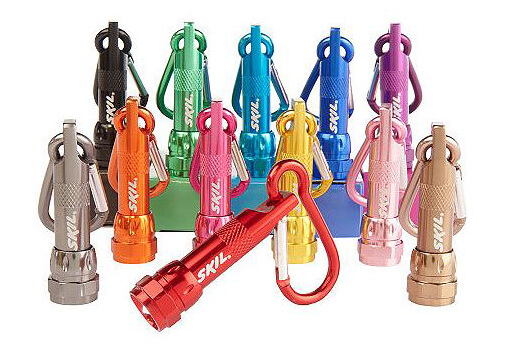 1SaleADay is offering this SKIL 12-Piece LED Flashlight Set with Carabiner Clips for only $5 shipped! You will be paying only $0.42 per flashlight.
Brighten your life! Skil, the brand known for high-performance power tools, offers this remarkably priced set of 12 LED flashlights. Use them all around your home or give each as a separate gift – they're great for kids and adults alike, and come in a color-coordinated box.
Handy and handsome, each flashlight comes in a fun color and the batteries are included – they're ready to use right out of the box! Keep these sleek anodized aluminum lights right wherever you need them most – in the bedroom, garage, kitchen, car, or basement. Best of all, the convenient carabiner clip lets you use one as a keychain or hook it onto a belt loop or backpack. Never get caught in the dark again.
These flashlights would be perfect to hand out to trick or treaters or if you pack shoe boxes for Operation Christmas Child or a similar program these would be also be a perfect item to pack.
Get your SKIL 12-Piece LED Flashlight Set today, as this offer is valid 9/1 only.