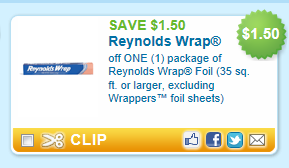 Here is a high value printable, Save $1.50 off 1 package of Reynolds Wrap. Use coupon 77477. I found the coupon on the very last page.
Starting March 25, at Giant the Reynolds Foil 75 sq ft is going to be on sale for $3. With the coupon you will pay only $1.50!
If you want this coupon I would print now, as I'm sure it won't be around real long.