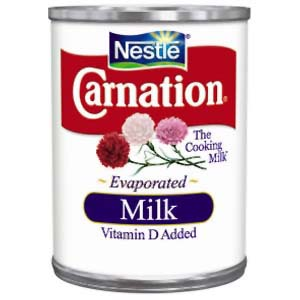 As I was mixing up dinner for tonight, I realized I needed a can of evaporated milk. I didn't feel like loading the kids in the car to head to the grocery store for one small item. What do you do when you need a substitute for a recipe? Well, in my case I headed to trusty Google.
And that is how I made a discovery. I discovered how to easily and inexpensively make evaporated milk at home.
How To Make Evaporated Milk
Did you know that Evaporated milk is simply milk that has had about 60% of its water removed. Here is how you can make your own at home.
Put 2 cups of fresh milk in a sauce pan and let it simmer slowly on very low heat. After approximately 20 – 30 minutes you will have 1 1/2 cups or 12 oz of evaporated milk.
At Weis, for a 12 oz can of Carnation Evaporated Milk I pay $1.39 or $0.12 an oz.. I pay $3.65 for a gallon of whole milk which is 128 oz. or $0.03 an oz.. The 2 cups of milk that I used cost me $0.45 and when I was finished simmering it, I was left with 12 oz of evaporated milk that would have cost me $1.39 at the grocery store. How is that for saving $0.94?
Please note, the price difference would be less if purchasing a cheaper brand of evaporated milk.