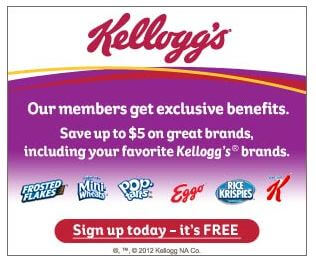 Get exclusive coupons and earn rewards from your favorite Kellogg's® brands. Click the banner above to become a member today.
You can then redeem codes for high value coupons, gift cards, magazines and more. Codes can be found on packages of Kellogg's products. But even better there are often free codes you can enter to accumulate points. Use code FREEGROCERIESNOW to add 50 points to your account.
And here are some codes that where previously available. Enter them if you haven't already used them:
KFRDELTAENTERNOW
ENTERDELTASWEEPS
FAVHOLIDAYCOOKIE 
KFRGIFTOFSAVINGS
KFRFAVPOPTARTS10
MARIECLAIRE50PTS
HOWITWORKS20PNTS
KFRNOWONFACEBOOK
ERESUNGANADORHOY
JOINKELLOGG2SAVE
foodnetmag50pnts
KFRFREEGROCERIES
goodhousemag50pt
redbookKFR50pnt
Thanks, The Thrifty Frugal Mom!