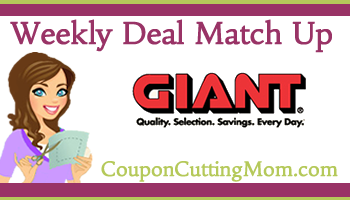 The Giant I shop doubles coupons up to $1.00 and will only double one like coupon per transaction. This can vary from store to store, so please become familiar with your local stores policy.
Want your own customizable shopping list? Scroll to the bottom of the post and click on the PrintFriendly button on the far right hand side. Also use the Coupon Database to find additional coupons for items you are planning to purchase.
Giant Matchup for April 21 – April 27
:: Produce
Premium Cut Broccoli or Crowns $0.88/lb
With $25 purchase and in ad coupon
Driscoll's Sweet Strawberries 16 oz. $2.99
Dole or Giant Salad Blend 5 – 12 oz. B1G1 FREE
Use the $0.75/1 Dole coupon from the Spring Essentials book found in store
Sweet Blueberries or Blackberries 4.4 – 6 oz. B1G1 FREE
:: Meat
Perdue Oven Stuffer Roaster $0.88/lb.
With $25 purchase and in ad coupon
Giant Fresh Pork Spareribs $1.99/lb.
Giant Fresh Round London Broil or Roast B1G1 FREE
Ball Park Beef Franks 14 – 16 oz. B1G1 FREE